April 14th, 2021: SAMA Canada Status Update
SAMA Canada plans to start its activities with new projects hopefully in Q2 or Q3 of 2021. As you know we had to suspend our activities in 2020 due to ongoing pandemic.
Tu summarize, since we started we have invested over 13,000 CAD in 3 projects in Serbia:
In 2017 we helped with donation of new ultrasound system for the hospital in Pančevo
In 2018, we donated a new pediatric defibrillator to hospital in Loznica
In 2019, we donated 2 infusion pumps to the hospital in Kraljevo
The project we are currently working on is on donation to hospital in Pirot. SAMA-USA members have recently visited hospital in Pirot, and you can read more about their visit here.
You can read up to date SAMA-Canada financial reports here.
You can read up to date list of SAMA-Canada donors here.
We are looking forward to resuming our activities, and would like to thank you all for your support.
SAMA-Canada Board
P.S. You can read about SAMA-USA activities here. Please note that their web page is being currently redone so some information might not be totally up to date.
June 1st, 2019: SAMA 3rd Annual Walk in Toronto
We collected over CAD 2800 that were used to purchase infusion pumps for Hospital "Studenica" in Kraljevo. You can read more about the project here.
August 9th, 2018: New defibrillator delivered to Hospital in Loznica
New Nihon-Kohden 1521K defibrillator with pads for children was delivered to Dr Mirko Mrdjen at the Hospital in Loznica. Money for this donation was collected by SAMA-Canada during the 2nd annual SAMA Walk in Toronto. Again many thanks to all who contributed to this event! You can read more about this project including the letter from Dr. Mrdjen here.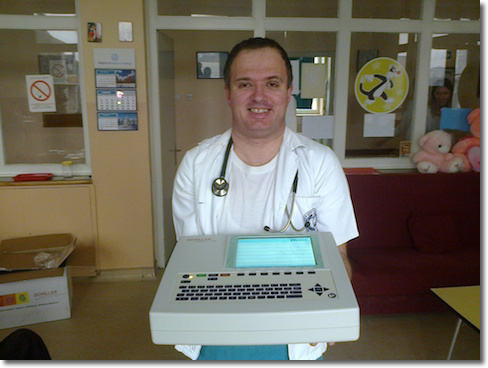 June 2nd, 2018: Thank you to all who came to support second annual SAMA walk
We collected over CAD 4000 and USD 300
We were collecting funds to purchase new pediatric defibrillator for the Hospital in Loznica. You can read more about this project here.
Since our first fundraising in June this year, SAMA-Canada was focusing on finishing paper work with registration, opening bank account and obtaining charitable status with Canada Revenue Agency.  Our next walk will take place on June 2 2018 and it will be advertised in Novine, a Toronto newspaper. In October our members supported Jovan Dučić organization during their annual gathering where they collect funds for purchasing the ambulance to be donated in Republika Srpska.  On our part small scale fundraising was done by our members, in the form of having a garage sale and collecting donations at the "slava's".  We are looking forward to continue our mission.
September 23rd, 2017: Novine about SAMA Donation
July 27th 2017: New Ultrasound System delivered to the Hospital in Pančevo
The new Mindray DC-N3 Ultrasound System was delivered to the Hospital in Pančevo. The new system will greatly improve the quality of health care for patients in Pančevo Hospital, enabling doctors to provide complete diagnostic treatments within the Urology Department. The funds for this donation were collected at the SAMA Walk in Washington DC and the SAMA-Canada Walk in Toronto, Canada.